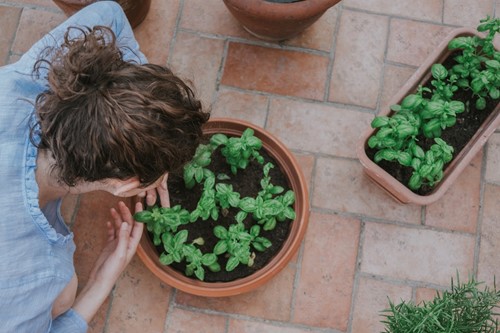 Having a small outdoor space doesn't mean you can't enjoy the benefits of nature. Even for small porches and patios there are some clever garden solutions that will let you grow and care for the plants you love. The best part is that many of these same solutions can be DIY with the right tools and know-how. Here we'll go over some of the best gardening solutions for your porch or patio.
Hanging Planters
Hanging planters are a perfect way to make use of the vertical space you have on your patio. You can either hang planters from wall brackets or from a ceiling overhang if available. There are many styles and designs for hanging planters available, both in single-pot and multi-pot options.
To make the most efficient use of space you can DIY your own macrame plant hangers to hold individual pots. Terra cotta pots are widely available, budget-friendly and easy to customize if you want to add your own artistic flair. You can also use your choice of plants as a point of style as well. Trailing plants with cascading vines will add visual interest spilling out of pots and bright flowers add pops of color to the view.
Multi-Tier Planters
Multi-tier pots and planters are perfect space-saving gardening options and another solution that's easy to make yourself. Collect a set of pots or planters in the same size and place them inside one another slightly offset from the center to allow more soil room. You can plant individual, smaller plants in each tier of your new "tower" and create a whimsical look while saving space.
Make sure to consider the specific needs of any plants you want to grow in this kind of planter arrangement. If you're going purely decorative, opt for plants that don't have extensive root systems and won't mind being planted close to their neighbors. For extra aesthetic appeal, consider mixing trailing plants with more vertically growing varieties to get the most out of the allotted space.
Ladder-Style Shelving
As household plant care has increased in popularity, so have the display and storage solutions. One of the hottest trends that is also incredibly useful is ladder-style plant stands and shelves. While these take up more floor space, they can hold upwards of a dozen different potted plants. There are plenty of ready-made options available to purchase, but with some basic carpentry skills and online tutorials you can make your own for a fraction of the price.
One of the great things about making your own ladder shelf is that you can customize the size and amount of shelves you need. You can stay narrow and vertical or extend out horizontally—just make sure everything is safe and well-supported.
There are countless ideas out there for plant display and storage no matter what size of space you're working with. If you have a small patio but want to have a lush and extensive garden, combining these clever DIY options can help you create the miniature jungle of your dreams.